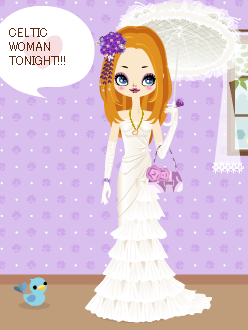 Forgot to include my purse in the picture, but this is it:
And here's a closer look at my parasol (too bad my Poupée doesn't have the lavender one):
Although my Poupée did not, I had a jacket and outer coat with me that day, as well.
And, of course, my super sweet girlfriend, Amy!
If you're not familiar with Celtic Woman, get with it! :D
On Sunday, I saw Celtic Woman in concert. No photos are allowed at the show, but I did take plenty of myself all dressed up. And I did something I've wanted to do for a while: I dressed my Poupée up like the real me!